In November of 1976, Mr. Bob Ryan Jr. first opened his Chevrolet franchise on Highway 55 in Buffalo, Minnesota.  Forty years later the dealership serves many thousands of customers from around the community and has added Cadillac, Chrysler, Dodge, Jeep and Ram franchises, all of which have won multiple customer service awards. 
In celebration of our 40th anniversary, we are having a
HUGE CELEBRATION SALE.
Along with low low prices we are giving out complimentary
40" LED 1080p HD
televisions with every vehicle purchased in the month of November 2016 and have many other offers for you to enjoy!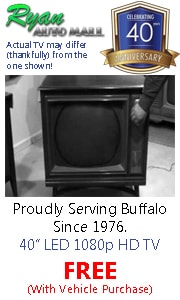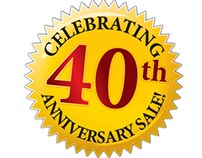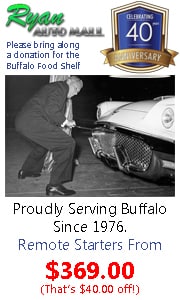 Our award-winning service department also has some amazing daily specials and all-month-long deals!
Are you old enough to remember 1976? Here are some fun facts from that year. . .
Gas was just 59 cents a gallon.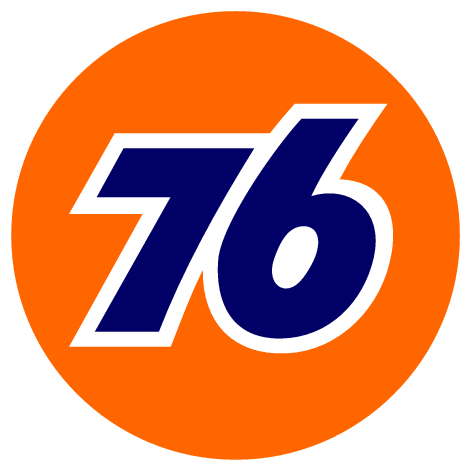 A Romanian gymnast called Nadia Comaneci earned the first "perfect 10" in the Montreal Olympics.
Steve Jobs and Steve Wozniak launched Apple Computer. Their first computer sold for $666.66.
The most popular TV show was Happy Days.
The top song of the year was "Tonight's The Night" by Rod Stewart.
A new 1976 Chevrolet Impala was only $4,763!  
Top quotes: "Adrian" (Sylvester Stallone - Rocky), "You talkin' to me?" (Robert De Niro - Taxi Driver)
World Series champions - Cincinatti Reds
Superbowl X champions - Pittsburgh Steelers
NBA champions - Boston Celtics
This 25" Zenith Color TV was $599 
Time magazine's Man of the Year - President Jimmy Carter
Sweden's most popular corporation was ABBA.
The Dow Jones Industrial Average closed the year out at 1004.
The average house price was $43,400
Average income was $16,000 a year.
So much has changed, but the Ryan family's commitment to ensuring your satisfaction is as strong as ever. 
We thank you for your continued patronage and for being a part of our extended family.